UTeach Maker is a micro-credentialing program developed at UT Austin that supports preservice STEM teachers as they develop innovative, project-based maker practices for their classrooms and makerspace environments. The UTeach model focuses on providing STEM undergraduate majors who want to pursue teaching careers with the training and education they need using an inquiry-based approach.
The UTeach Make For All Initiative
A coalition led by the Make For All Advisory Council has launched a national call for commitments in support of maker-centered learning to be announced in June 2019 at the Nation of Makers Conference in Chattanooga, Tennessee.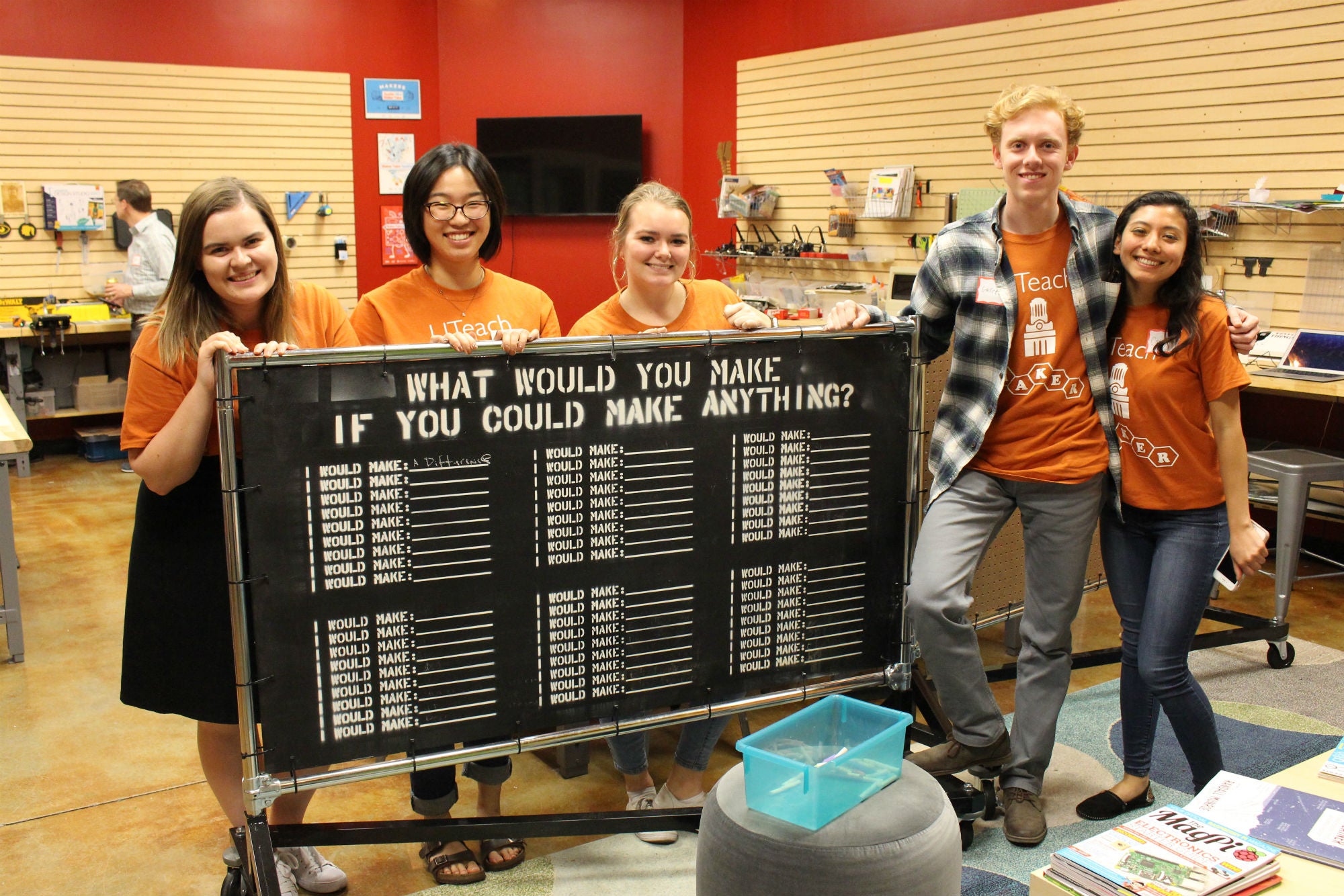 UTeach Maker is leading a collaborative group of partner universities working to incorporate making into 22 UTeach STEM teacher preparation programs by 2022. This will include one or more of the following:
Integrating making into university coursework
Connecting with existing university-based maker initiatives
Connecting with community and K-12 school partners interested in making
Establishing a maker micro-credentialing program
Initiative Goals - By The Numbers
In addition, UTeach Maker will continue to develop, publish, and distribute freely accessible resources in support of making in STEM classrooms.
This collaborative group of UTeach universities hopes to connect with organizations interested in funding the expansion of this effort and to further engage with members of the maker community.
UTeach Maker has successfully translated and applied making to the important arena of STEM teaching and teacher preparation. The model weaves together the university program, local schools, and the wider community. Through the UTeach network, we offer access to university programs across the nation and the ability to leverage existing infrastructure, support, and resources to deepen STEM teacher preparation through making.
Read the UTeach Make For All Survey to find out more.
Get Involved
Want to get your UTeach program involved? Contact Shelly Rodriguez to find out more (rodriguez@uteach.utexas.edu)
Our Make For All Journey
In December of 2018, several UTeach programs came together to explore ways to support preservice STEM teachers in implementing maker-centered instruction in school classrooms. Supported by a C3 grant from Infosys Foundation USA, this initial summit led to a UTeach Make For All initiative that aims to ensure that students from all backgrounds have access to making as an empowering way of learning.
Read the C3 Maker Summit Report to find out more.