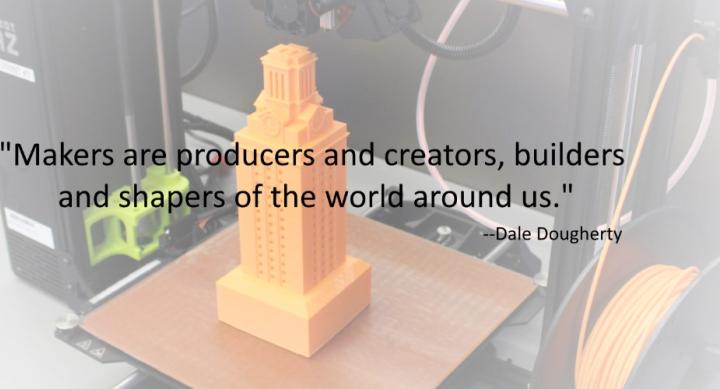 Participation in the UTeach Maker Program is a unique opportunity to develop a deep understanding of both the philosophical foundations and practical applications of the Maker movement as an educational approach. From concrete experiences in the classroom and access to current practitioners, to mentorships from MakerSpace managers, you'll have access to the first-hand experiences needed to help kickstart your own journey as a Maker educator. In this program, you will develop the tools and skills needed to bring Making into the classroom and provide access to the world of Making to diverse groups of students.
Why be a UTeach Maker?
Educational Leadership in STEM
Participation in UTeach Maker will provide you with the knowledge and skills to be on the cutting edge of innovative education in STEM. You will be able to demonstrate experience with project-based learning, elements of design and engineering education, techniques for supporting students in long-term projects, differentiation, and a wide variety of educational tools. This skill set will be highly valuable in any educational setting. In addition, your Maker Showcase will show others that you have the initiative, creativity, and work ethic needed to be an educational trailblazer.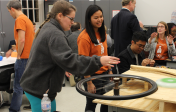 Innovative STEM education for All
Making is an endeavor that supports students in finding their passion and developing confidence in their ability to create and contribute. However, Making takes resources and access not available to all students. By bringing Making into the classroom, you will ensure that students from all backgrounds have an opportunity to engage in this empowering way of learning.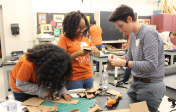 Mentorship
UTeach Maker will provide you with a mentor currently working in Maker Education. Mentors will provide real-world advice on classroom management, using maker tools and technologies, assessing students, and much more. UTeach Maker will also help support you as you complete your Maker Showcase by providing resources, opportunities, and advice.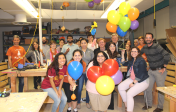 Community
As a UTeach Maker, you will be a part of a community of like-minded UTeach students. You will collaborate with others interested in challenging traditional education. UTeach Maker will have regular cohort meetings and professional development opportunities where you can learn and grow together. You will also become part of the larger Maker community in Austin and nationwide through participating in events and activities. By the end of your UTeach Maker experience, you will have an established network of Maker friends and colleagues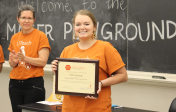 Other Incentives
When you complete the UTeach Maker program, you will earn a formal certificate from the UTeach Maker Advisory group and a letter of recommendation from your mentor. You will also be featured on our list of UTeach Maker graduates and have your Maker Showcase linked on the official UTeach Maker website. UTeach students earning the Maker Endorsement will be qualified to serve as future UTeach Maker mentors and advisors.